Maintaining dental health is an extremely important part of your pet's overall health. Poor dental health can contribute to tooth decay, a painful mouth, bad breath, tooth abscesses, liver disease, kidney disease, heart disease and other organ dysfunction. Both pets and people live longer and healthier when good dental health is maintained. Plus we all enjoy our pets more when they have fresher breath!
​​As the Best Vet in Clarksburg, we evaluate your pet's teeth at each annual check-up or the twice a year check-up for those over 6 years. The need for dental care over the life of your dog or cat varies. Some breeds are more prone to dental disease and need more frequent cleanings – up to once or twice a year. Our goal is to prevent damage and tooth loss over the years. Once we determine a need for dental care, we offer a wide array of dental services for your pet to deal with any problems and make a plan for prevention in the future.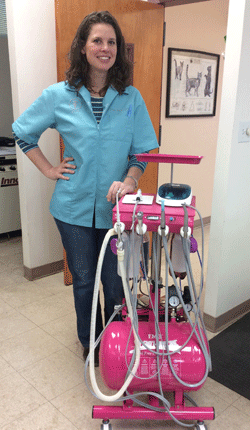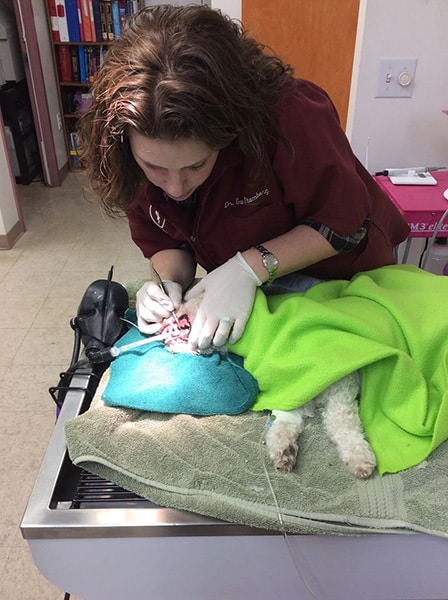 Your Concerns – Anesthesia and Cost
Most dog and cat owners have 2 major concerns about following through with dental cleanings for their pet – cost and anesthetic risk.
A routine cleaning before damage begins is considerably less expensive than waiting too long. The longer we wait to clean, the higher the likelihood of extractions, additional procedures as well as permanent damage. Some damage that occurs will require more frequent cleanings for the life of your pet to maintain. It can also mean more care and maintenance at home as well.
Anesthesia is never 100% risk free, but risks can become minimal by proper per-anesthetic evaluation, careful selection of anesthetic drugs, and diligent monitoring by qualified individuals. Pre-anesthetic evaluation may include an exam, blood work, chest radiographs or an echocardiogram (heart ultrasound). A routine cleaning without further procedures also greatly lowers your pet's time under anesthesia.
Anesthesia and Dental Cleanings – The CAH Difference
​Being well trained and attentive is the best way to avoid anesthetic complications. We take our role in this very seriously and make sure your pet is in good hands. We work as a team to make safety a priority.
There are 3 people present when your dog or cat is getting a dental cleaning with us. We have one technician responsible for performing the dental scaling and polishing. A second technician is dedicated to monitoring and managing anesthesia. Finally, our Veterinarian is present the entire time overseeing the process and will be the one inducing anesthesia, performing a thorough oral exam and any procedures necessary.
After the dental procedure is complete, one of the two technicians will monitor your pet continuously through the anesthetic recovery until he/she is able to sit up without assistance. After that the entire team regularly checks on all our patients until they go home. We are flexible with drop off and pick up times to accommodate your schedule and minimize the stress and anxiety for your pet. If we don't suggest a way to customize a plan for your pet, feel free to ask us to accommodate your concerns.
​​For more details on this, please visit our Drop-offs, Surgeries, and Worries page.​
A Routine Cleaning for Your Dog or Cat
A routine dental cleaning involves:
General anesthesia (with intubation to protect the airway)
Pain medication to minimize any soreness during and after cleaning
Hand and Ultrasonic scaling of tartar from all tooth surfaces
Full oral exam and dental charting by the veterinarian.
Polishing all tooth surfaces
One Technician for cleaning & polishing, a Second for anesthesia monitoring & recovery​​​​
Specialized Dental Care
Some pets may ultimately need Specialized Dental Care. When we identify that your pet will need more advanced care, we will discuss the options and educate you on the process and the approximate costs involved. We will refer you to a Board Certified Veterinary Dentist in the area who provides the same great care for our patients.